RVshare is a site where you can rent an RV. It was created as an easy solution for the issue that many people who own RV don't use it all the time and most of the year it is just parked on their yard, in the garden or wherever. The reality is that it's just a waste of the space.
Then there are people who would like to try living in RV and travelling around the state or the whole continent in it. RVshare joins these people in order to help them benefit from what they have or make their dream come true and enjoy their lives.
If You Own an RV
If you have an RV just parked somewhere and want to take advantage of it, this is your chance. You can make form 120 to 365 dollars a DAY renting your RV. You can find out how much you can get for your vehicle using a simple calculator on the RVshare website.
Then you need to fulfill some forms. Basic stuff like what type and model you own, its age, where are you from… Be honest. According to this, the (suggested) price for renting your RV will be calculated (in the end you decide how much you ask for) and if customers find out you have posted false information on the internet they may share this experience with others and you lose your potential future clients.
On the site post not only information, but also the photos. Of your own RV, of course. Please, don't use the download picture of the similar RV.
Clean your RV before you lend it someone and make sure everything is working just like it's supposed to. Go to garage where qualified mechanics work and let them repair all the damaged and shabby parts. Your customers probably don't dream about getting stuck somewhere in the middle of their trip because some important part of the vehicle is completely broken.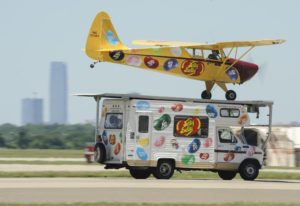 When potential customers come to see your RV, don't let them just look on it and see the interior. Tell them something about it, something what could persuade them that this is what they are looking for.
Be polite while negotiating the conditions of the renting and try your best to answer their questions.
They don't need to come to see your vehicle first. They may come only on the day you agreed to land them it as well. As I wrote, be polite and explain everything important. Show them how things work and let them enjoy their adventure while you will be enjoying your money.
If You Want to Rent an RV
It's really simple. Just follow these steps:
-Visit an official RVshare website https://rvshare.com
-Search in catalogue using filters to find a vehicle which fulfills your dreams and expectations
-Book the RV
-Talk right to an owner and negotiate the conditions of the renting the RV
-Enjoy the trip, enjoy all the places you visit, enjoy your time
-Return the RV to its owner (cleaned and not damaged). In case something was not working as it should let the owner know. It may be something important and some repairs may need to be done
-Share your experience with others to help them decide
Insurance
It is a service provided to you for free by listing and booking through RVshare.
For reservations with RVshare Rental Insurance activated, owners are provided $500,000 in liability coverage as well as comprehensive and collision coverage for the value of their RV up to $200,000. Owners also have the ability to transition to a program offering up to $1,000,000 in liability coverage.
RVs 15 years old or newer, with a stated value of $200,000 or less, will automatically be approved for coverage whether motorhome or travel trailer.
The deductible for RVshare Rental Insurance is $1,500, on a per occurrence basis, and is payable from the renter's security deposit. A certificate of insurance will be issued to you on a per rental basis once the renter pays for RVshare Rental Insurance.
If you need more information about RV insurance check this out: https://www.reviews.com/rv-insurance
Protection for RV Renters
RVshare Rental Insurance makes acquiring coverage for your rental effortless. When a renter books a reservation through a listing that has active RVshare Rental Insurance, the insurance is automatically included in the rental quote. Once the rental agreement has been signed and the insurance transaction has processed, the renter is sent their addendum. RVshare Rental Insurance covers both domestic and international renters.
For reservations with RVshare Rental Insurance activated, renters are provided collision and comprehensive coverage with a $1,500 deductible owed on a per occurrence basis. The deductible is collectible from the security deposit. For the rental of a motorhome, renters are also provided state statutory limits of liability.
Renters are covered in all 50 states and Canada, and will be issued a unique certificate of insurance on a per rental basis.
Payments
For renters:
It depends on when you book your reservation and the RV owner's payment policies. If you are booking your reservation more than 30 days before the start date, then the owner can allow you to either split your payments in two, or simply have you pay for the entire rental at the time of booking. If you're booking your RV within 30 days of pick-up, 100% of payment will be due at the time of booking.
For Owners:
You are probably curious when you get the money. The rentals are released typically one business day after the reservation and it takes about two business days till money get to your bank account but it can take 5 days as well.
If a reservation was canceled and you are still owed a payout due to the cancellation policy, your payout will still be released, as scheduled, one business day after the rental would have begun.
If you liked this article, find out about new opportunity how to make money or renting an RV is something you want to try and want more information, visit the official site: https://rvshare.com
Related articles: