What the GetResponse is?


It is a tool for those who use online marketing to earn money and want to be able to provide online webinars to their clients. However there is much more GetResponse offers. It includes things like:
• the ability to import, grow and host an email database
• numerous variations of templates
• autoresponder functionality
• responsive email designs
• split (A/B) testing
• in-depth reporting
• RSS / blog to-email functionality
• comprehensive segmentation options
• social sharing tools
• while creating new post you can see how it will look like in phone
We can simply call it all-in-one online marketing tool. So you get autoresponders to integrate with your webinars and send out reminders and follow-ups after the webinar has completed for example and you get webinar landing pages to get people to register for your webinar and instantly build your e-mail subscriber list
But let's go back to webinars and focus on why they are important. Well, if you provide e-mail support for your customers, they can write you a question when they need help or they are not sure about something and you (or your assistants) answer it. That's all nice but when a hundred or more people ask the same question it become overwhelming and annoying. Trough webinar you can respond all of them at once which saves you priceless time.
Next thing you can do thanks to webinars is introducing new products/services. During a webinar you can also mention new updates you have create for the existing ones, tell your customers tips and tricks to help them understand the product better so they can get the maximum out of it. A friendly voice and smile and people will feel closer to you which is only good for your business.
Pricing
This really depends on. It could be from 15 up to several hundreds of dollars per month. And what it depends on? First thing is number of your subscribers, second is your plan. There are four of them: e-mail, pro, max and enterprise.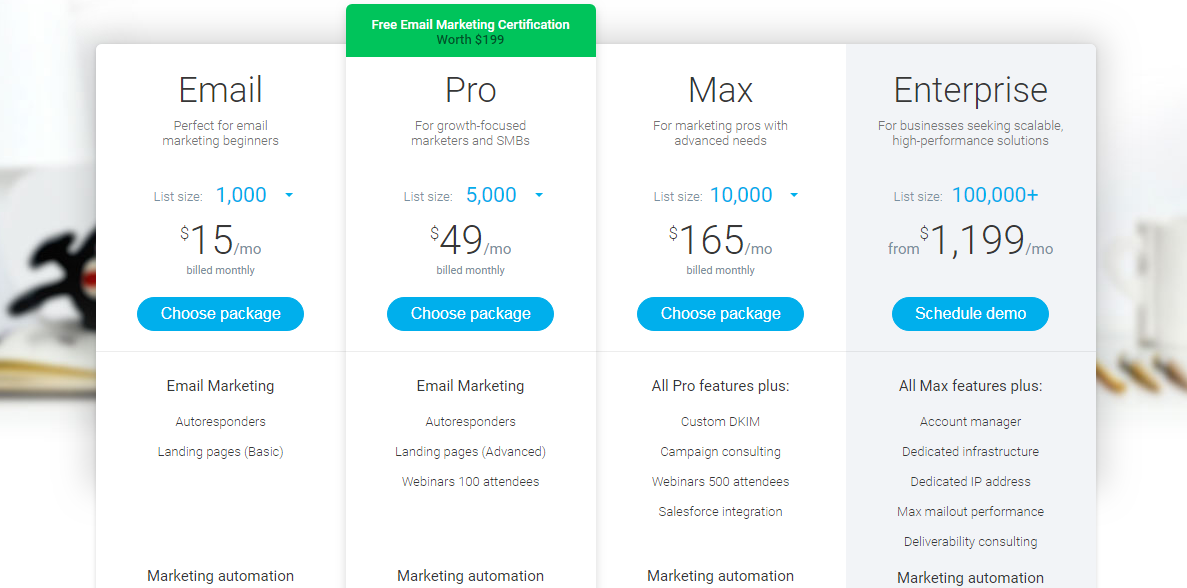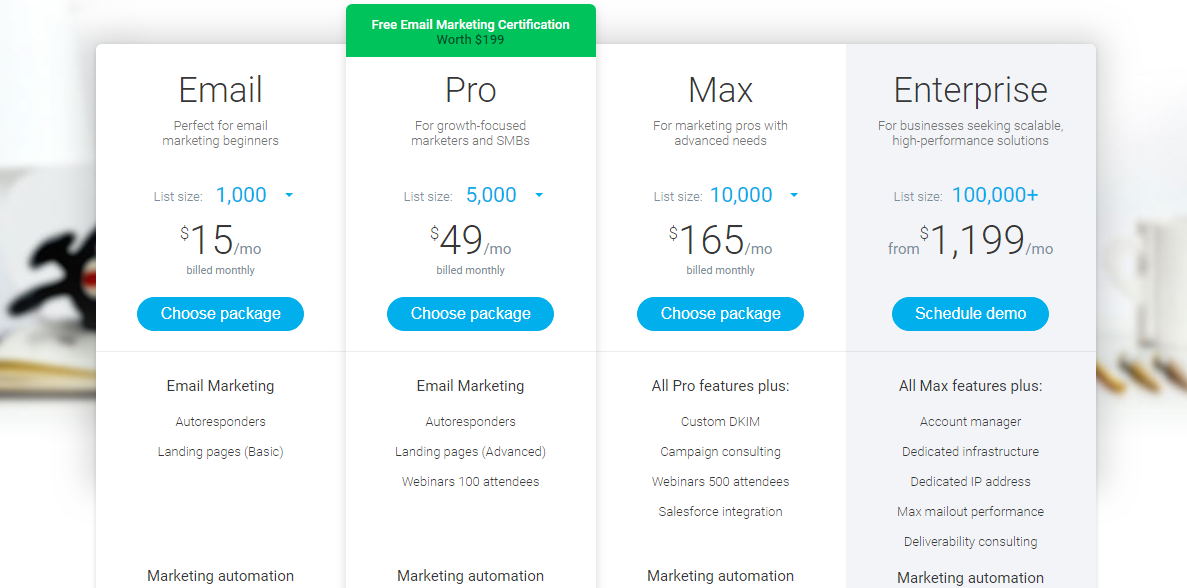 Source: official GetResponse site www.getresponse.com
Number of your followers influences the price (like this):
Up to 1,000 subscribers: $15 ('Email') / $49 ('Pro') / $165 ('Max')
1,001 to 2,500 subscribers: $25 ('Email') / $49 ('Pro') / $165 ('Max')
2,501 to 5,000 subscribers: $45 ('Email') / $49 ('Pro') / $165 ('Max')
5,001 to 10,000 subscribers: $65 ('Email')/ $75 ('Pro') / $ 165 ('Max')
10,001 to 25,000 subscribers: $145 ('Email') / $165 ('Pro') / $255 ('Max')
25,001 to 50,000 subscribers: $250 ('Email') / $280 ('Pro') / $370 ('Max')
50,001 to 100,000 subscribers: $450 ('Email') / $490 ('Pro') / $580 ('Max')
and, as you can see, enterprise package starts with 1199 dollars per month.
You can also try it for free for 30 days.
In competition to other similar programmes (like aweber or mailchimp), GetResponse is cheaper. There is also Mad Mimi which may be cheaper than GetResponse but the provided service does not even worth to be compared with already mentioned ones.
How to use it?
In fact, it is very simple to understand how it works. Many people would confirm that you can set up your first webinar within 10 minutes. All you need to do is sign in and read carefully. Instructions are clear an easy to understand.
You create newsletters and webinar invitations simply by filling the existing forms you can customize a bit.
If you like this post and are curious about this tool, you may also like to check the official site: www.getresponse.com
Related articles: